The circumstances surrounding the disappearance of Barbara Louise Cotton:
A quick background:
Barbara Louise Cotton was born November 10th 1965 in Tioga, North Dakota to Louise (Lolley) and John Cotton.  There was a 19 year difference between their oldest child and their youngest.  Barbara was the 7th of 8 children.
When Barbara, who went by Barb to most who knew her, was about 7 years old her parents divorced and her mother, Louise, moved to Williston, North Dakota with the 3 youngest children.  Barb's brother Kent was a year older and their sister Kathy was 2 years younger.  The five older children were adults at this point and were already living on their own.
As a single mother, Louise had to work a lot to make ends meet and there wasn't much money leftover after paying bills.  When they moved to Williston, the children had a babysitter for a couple of years but, eventually the children were expected to take care of themselves and each other while Louise was working.  They had to grow up fast.  Faster than Louise would have preferred in some cases.  However, she did what she had to do to keep them fed and maintain a roof over their heads.
1981:
The most common version of the last time anyone saw Barb goes something like this:
She was last seen on April 11th 1981, after having dinner with her boyfriend and another friend in downtown Williston.  After dinner, her boyfriend offered to walk her home but Barb declined.  From the corner that The Plainsman Hotel occupied, her boyfriend watched her walk into Recreation Park.  She has never been seen or heard from again.
This scenario seems to be based off police reports made by Barbara's mother, Louise Cotton.
After 40 years, there's only a few things that are clear.  Barb has never been seen or heard from again.  No remains have been found that have been matched to Barb.  There have been no arrests made in connection with her disappearance.  The people that should have been questioned after she disappeared, apparently never were.  At the very least, there doesn't seem to be any records regarding them being questioned and the worst part is that many of them have since passed away.  This includes 2 out of the 3 individuals that Williston police have publicly named as a "person of interest" in Barb's disappearance.
One of these individuals, and perhaps the most interesting "person of interest" is Barb's "boyfriend".  I write "boyfriend" because Barb's close friends don't recall her having any boyfriend and no one besides Barb's mother recalls knowing that this person even existed.  Before we go down any rabbit holes I'll just say that we do know that he existed.  We also know that it is likely that he was in Williston when Barb disappeared.  We have yet to find anyone else that can positively place him there, however, we know that he wasn't a fictional character.
Louise states in her call to police on April 12th that she last saw Barb in the company of a new boyfriend, named Stacey Werder, that used to wash dishes at Cakes N' Cones.
Stacey Werder is, by far, one of the biggest mysteries in this case.  There's plenty of reasons to be suspicious of Stacey.  However, there's also a couple reasons why he may be an unlikely suspect.  There are also plenty of issues that arise anytime we try to gain clarity on anything involving him.
It is believed, and seems likely, that Stacey left Williston for Montana within a day or two of Barb's disappearance.  We can verify that by June he was definitely there.
It is possible that, if Stacey Werder did leave Williston right away, he already had plans to do it prior to April 11th.  Louise stated that Stacey "USED TO wash dishes at Cakes N' Cones".  It is unclear when Stacey worked there or when he stopped.  Maybe he had already quit because he found a new job in Montana?
What we do know about Stacey Werder: Stacey Demarr Werder was born October 5th 1959 in Yreka California.  He was described by classmates as a smaller guy and they remember him being very smart and said he was always a "nice guy" .
His sister's agree that he was extremely intelligent and he could be very nice. However, they also recall episodes where Stacey would become extremely violent in an instant.  He attacked members of his family and they do not seem to doubt that he was attempting to kill his target in those situations.
One of his sisters went on to say that he was in the Navy in 1980 but he was discharged after they diagnosed him with Paranoid Schizophrenia.  The symptoms of schizophrenia typically start to manifest in the late teens-early twenties in males and late 20s-early 30s in women.  There are exceptions however, it is rare for the disease to be diagnosed before age 12 or after age 40.
She also said that Stacey didn't drive.  He was a drifter and hitchhiked everywhere.  When he would come home he told stories about going to places like Canada and Texas.  At one point, their brother even accompanied Stacey on the road for a while.
One of the last times Stacey was home he nearly strangled their father to death with an extension cord.  Stacey was told to leave and not come back.  So he left.
Louise called police again on April 13th 1981 and told them that she thought Barb could be with Stacey Werder in Scobey, Montana at the Pioneer Hotel in room 205.  Williston Police Department received word back from law enforcement in Montana that Barbara was not there.  This call will also be included.  There is nothing that indicates if Stacey was there or not.  We aren't sure how Louise got this information.  There's a couple logical theories but there are countless possibilities as well.  Louise was friends with the owners of Cakes N' Cones.  They might have known he was headed to Scobey or Stacey could have told Louise himself when he met her.
We don't actually know if Stacey was in Scobey.  It's only Louise that places him there or even in Williston.  However, there is someone else who believes it was likely Stacey Werder that was with Barb that night…
It seems likely that Barb attended a party at the 18th street apartments the night she disappeared.  In 1985 an article ran in The Bismarck Tribune Louise states that she returned home from work around 11pm and talked with Barb.  Barb said she would be home and that she was going to work in the morning at Country Kitchen.
The court document Louise filed to declare Barbara deceased in 1998 stated that Barb was last seen by a friend walking from the Plainsman Hotel around midnight.
Maybe Louise met with or saw Barb, Stacey and another friend earlier in the evening.  From there Barb attended the party and maybe Stacey or maybe even this other friend left the party with Barb and they parted ways around midnight outside the Plainsman.
How did they speak?  Was Barb at home getting ready to go to the party when Louise got home?  Was Barb already at the party and they spoke over the phone?  Louise had the host's phone number.  She called there numerous times in the months following her daughter's disappearance.  Louise would ask if there was anything at all that the girl could remember about that night.
This woman and her sister recall Barb attending a party at her apartment.  They admit that, after 40 years, it's hard to say with absolute certainty that it was the night Barb disappeared.  However, they do feel very strongly that it was.  Also, why else would Louise continue to call them?
They recall that Barb did attend the party with a boy and, after seeing photos, they think it's possible that it was Stacey Werder.  One sister remembers Barb leaving with her boyfriend and the boyfriend returned later alone. She recalls asking where Barb went and the boyfriend told her Barb got a ride but didn't elaborate further.
The other sister recalls being told that Barb's boyfriend stopped at the apartment the following day demanding to know where Barb was.
Precise, clear, complete, verifiable… These aren't words you're likely to hear used to describe the timeline leading up to Barbs disappearance.
So, it seems that the widely-shared story about Barb walking into Recreation Park may not be the last time she was seen after all?  There are plenty of details we may never have definitive answers to.
Barb's childhood friend Sandee Evanson recalls Louise calling her house and waking her up the night Barb disappeared.  It was very late, in fact it was the early morning hours of April 12th and Sandee remembers a sinking feeling that something must be wrong when the phone rang that late.
Louise asked Sandee if she knew where Barb was.  Sandee hadn't been with Barb that night and it was odd that Louise was asking.   Barb and Sandee, along with Barb's siblings became fast friends when the Cotton family moved to Williston.  However, Barb and Sandee hadn't spent much time together since Sandee, who was a year older, went on to high school. Louise knew that.
Sandee had been roller skating that evening at Wheel-A-While.  When they closed for the night at 12am, she walked home.  She recalls having an eerie feeling that something wasn't right.
Sure, the girls were still friends but Louise knew it was probably a long shot to ask if they had been together that evening as they ran in different groups at the time.
Sandee's father was a former police officer and he kept his daughter on a shorter leash than Louise could.  Louise, being a single mother who worked all the time to keep the bills paid, wasn't home to supervise as much as she probably would have liked to be.
Sandee's mother and Louise were good friends and Sandee remembers Louise talking about Barb's disappearance.  She recalls what Louise told them which was that Louise actually attended dinner with Barb and Stacey.  She also recalls that Louise had been happy because the interaction had gone very well.  Louise and Barb had been butting heads around that time about Barb dating and partying.  Naturally, Louise had been happy that the tide seemed to shift that day.
Another friend, Diane, who was very close to Barb when she disappeared, described their friendship and why she has never believed Barb ran away.
Barb and Diane were extremely close.  They told eachother everything and spent majority of their free time together, as teenage best friends tend to do.  Diane said they loved going to coffee shops and scary movies together.  Barb was at Diane's house a lot of the time.  At one point Barb wanted to move in with Diane and her family.  Louise wouldn't allow it and this was another source of conflict between Louise and her daughter.
The two girls worked at local diners and were saving money to get their own apartments when they turned 16.  Diane worked at the Thunderbird Cafe and Barbara worked at Country Kitchen.
Diane was set to get married in July of 1981.  Barb had her dress already or, at the very least, she had it ordered for her role as Maid of Honor.  At this point in time, no one is sure if Barb had already picked up her dress or if Louise picked it up after Barb disappeared.  However, Louise kept it for many years, ultimately giving it to her granddaughter who still has it today.
In hindsight, Diane seems to realize that the week Barb went missing they hadn't been hanging out as much as usual.  She didn't seem to notice that at the time.  Nothing occured to her as being different.  Now, it does bring up the question: was something different that week?
Apparently Barb had a new boyfriend. Maybe he was the difference?
Diane believes that she would have been the first person to know about Barb having any new boyfriend and she had no knowledge of this guy.  She admits she doesn't think that Louise would lie about something like that and that Louise's story never changed over the years but, she can't help but question how she or anyone else had heard absolutely nothing about him.
As mentioned, Barb and Diane didn't hang out as often as they usually did in the days leading up to Barb's disappearance.  However, Diane did speak to Barb on the phone on April 10th.  Barb had said that she was staying at (Diane doesn't remember the girl's name)'s house and they were going to take a dog to the vet in the morning.
She has never believed that Barb would just run away. Diane's wedding was a few months away and Barb would be 16 in November, which was only 6 months away.  Barb could get the apartment she had been working to save money for.  Plus, Barb knew she was welcome at her house if she ever needed somewhere to go.
Diane says she's never had another friend that she been as close with as her and Barb were.
When Barb disappeared she left a paycheck at home along with all of the money in her savings account.  She also left behind a nearly full carton of cigarettes and all of her clothing.
What runaway leaves behind all of their money, cigarettes and clothing?
At this point in the story most people become skeptical of Louise.  They wonder why all of the information is coming from her alone.  They wonder how she gets the information that she's giving to police and why she's feeding it to them.
Fair enough!
But to what end?  Why would she track Barb's "boyfriend" across Montana when police didn't seem particularly interested anyways?  Maybe she was panicking?  It's certainly a logical though progression.  Or was it just that Louise felt like she was the only one investigating her daughter's disappearance?
There seems to be extremely little, if any,  documentation that police conducted much of an investigation or even did much as far as interviews in the years following Barb's disappearance.  Current investigators note that they don't see documentation really pick up in Barbs case file until the late 1980s.
Was Louise conducting her own investigation and passing the information on to police?  Or is it possible she was trying to lead them astray?
Williston PD shared the original police reports from Louise Cotton
April 12th 1981 3:56pm:
"Call from Louise Cotton of her address she listed reporting that her daughter Barbara has not come home since yesterday.

She is a fifteen-year-old… lists date of birth… brown hair and eyes, small build, wearing a tan short jacket and blue jeans. Was last seen at a friend's house at about 10 p.m. last night.

Was with a guy by the name of Stacey earlier in the evening. Stacey (first name) used to wash dishes at Cakes 'n Cones.  Mrs. Cotton contacted him and he advised her that "she told him that she was going to walk home from Cakes 'n Cones"

Mrs. Cotton feels that… (and there's another person listed in here)… may know where she is but is not telling."
Monday April 13th 1981 1:18pm:
"Louise Cotton called and she reports that she thinks her daughter is in Scobey, Montana with a Stacy Werder. They might be in Room 205 at Pioneer Hotel"

Law enforcement responded and all…… that's documented is:

"Received word that the girl is not there"
On July 15th 1981, Stacey was arrested in Malta, Montana for disorderly conduct regarding an incident at the Villa Theater.  Stacey hung himself in jail that night at approximately 1:30am (just over 3 months after Barb disappeared).  He had previously been arrested on June 12th 1981 and served 10 days in Glasgow, Montana for a similar charge. *Stacey's sister mentioned that there was an incident on a nearby reservation where Stacey ended up being beat up and robbed prior to being arrested but she didn't indicate which arrest that pertained to.
I feel that it is worth mentioning that studies indicate that 5-10% of people with schizophrenia will ultimately take their own life.  The risk of suicide in these individuals is significantly higher for young adults and also increased when they arent receiving any treatment for the condition.
Another possible example of Louise conducting her own investigation is that Louise spoke with Stacey's mother, Cynthia Werder, over the phone.
September 1st 1981, call from Louise:
"Mrs. Werder, Stacy's mother, called about three weeks ago. She gave her phone number and she said that Stacey talked about Barb before he committed suicide. Said if Barb comes back to tell her to call Mrs. Werder. (Mrs. Cotton will call back with that phone number and she does.)"
Stacey's sisters recall their mother speaking with Louise on the telephone on a few occasions.  They aren't sure who called who first or when contact was initiated.  They remember that their mother referred to Barb as Stacey's girlfriend.  It could be because Louise told Cynthia they were a couple.  However, if Stacey really did speak to his mother about Barb then it stands to reason that he probably referred to Barb as such.
Another thing Stacey's sisters remember about the conversations between the two mother's is that when their mother told them that Barb was missing…  They suspected their brother had something to do with it immediately.   Not because Stacey would have premeditated it but because of the way they had witnessed him snap into violence in the past.  The feeling that he was in some way involved has never left them.
Throughout the years Stacey's sister's were never spoken to by any law enforcement agency.  Not because they were unwilling, but no one had ever reached out.  They assumed that it had been handled and that no one needed information from them about their brother.  They also don't think their mother ever spoke to anyone that questioned Stacey's involvement.  The reason being that, if anyone had even hinted that Stacey might have been a suspect, Cynthia would have been livid and they would have heard all about it.  Cynthia never seemed willing to believe or to even discuss that Stacey had committed suicide.
Louise and Cynthia seemed similar in this aspect (we might revisit this point later).  Maybe Louise sensed that Cynthia would become defensive over such questions.  Maybe Louise chose not to pry because she wanted to keep that line of communication open.  As James Wolner pointed out in the Dakota Spotlight podcast, maybe they were just two mothers who both lost a child recently, seeking comfort in one another.
Stacey's sister answered a collect call from Stacey while he was in the Malta jail.  He told her that he was coming home.  She expressed concern about her new dog not knowing him and that it might bite him.  He told her, the way that he was coming home, it wouldn't matter.  He told her that he needed her to tell their mother that he loved her and that he was damn sorry for what he'd done.
When Stacey committed suicide his death certificate lists his occupation as "laborer" in the "oil fields".  He died on July 16th 1981.  The hour of death is approximately 0130 though, he wasn't officially pronounced dead until 0915.
After Stacey's death, his sister's remembered that someone named "Red" brought Cynthia Stacey's belongings.  They aren't sure how "Red" knew Stacey or how he ended up in possession of Stacey's things.  They remember that he drove a red pick-up truck and he had a couple guys with him when he went to California.  Sometime after he delivered Stacey's things, Red found himself in trouble and served some time in prison.
It took months, however I did finally find Red.  He told us that he picked Stacey up outside of Malta while Stacey was hitchhiking.  They camped together for about a week before Stacey was arrested.  He doesn't recall anything suspicious about Stacey and he didn't hear anything about Barb.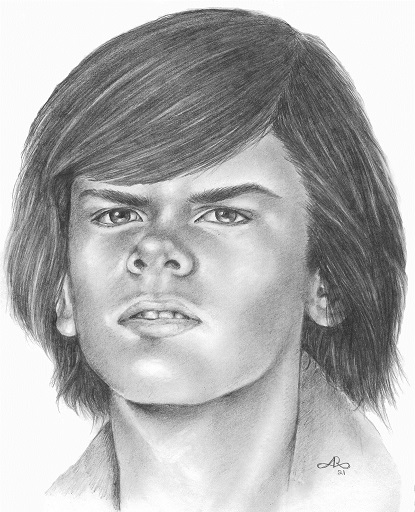 Sketch of Stacey Werder by Annie Ramsey.  Created based on Stacey's Navy photo and a photo of him with longer hair.  This is what we think he probably looked like while he was in Williston in 1981.                  If you are interested in having a portrait of a person or pet created by Annie please contact Lisa Jo for contact information. 
Stacey Werder wasn't the only person of interest who hung himself in jail.
Frank Delapena was working in Williston at the time of Barb's disappearance and within weeks he had what seems like a mental breakdown.  He was hospitalized in Williston on May 1st and released on the 2nd.  While there, he saw a psychiatrist and underwent observation.
He lost his job working for Sefel on a local seismology crew.  Delapena stayed on at the Williston KOA in his travel trailer for a few more days and on May 5th he hooked it up to his white 1973 Ford van and headed for Rawlins Wyoming.
On May 7th, traveling from Riverton to Rawlins, Delapena started what seemed like a desperate mission to lure young women, girls and even a little boy into his trailer along the way.  He would tell them he needed to re-home a husky puppy and they had to come inside to help him find it.  He failed numerous times before reaching Rawlins.
Unfortunately, he was successful in Rawlins.  At 7pm, in broad daylight, at a busy intersection he abducted 2 young girls, aged 9 and 12, one block away from the police station.  Their bodies were found the following morning off of an interstate exit 54 miles east of Rawlins.
Because Delapena had tried so many times in so many towns, it didn't take long to find out who he was.
Witnesses described Frank Delapena as Hispanic and said he spoke with a strong accent.  He had curly black hair with a round face and dark complexion.  On May 7th he was wearing a shirt with girls kneeling on the front of it, a John Lennon pin, snap brim hat with matching black jacket and pants.  He was pretty conspicuous with his white van pulling a 24.5ft double axel Kit Companion travel trailer and trying to give away a puppy he couldn't find.
His van was registered to him in Williston. His travel trailer was registered to him in Utah.  After the abduction he switched the plates on the van and the trailer.  On May 9th he parked the trailer at a KOA in Garden City, Kansas and stayed there 4 or 5 nights before heading back towards Colorado.
Wyoming police called Williston to inquire about Delapena only a few weeks after Barb disappeared.
Frank Delapena was arrested on May 12th 1981 in Limon, Colorado after applying for a job on a seismology crew with the same company, Sefel Geophysical as the whom he worked for in Williston.
Frank urged the foreman to call his old boss and when he did, he was told to get rid of Delapena and call back.  He sent Delapena to get some dinner and return after.  The Foreman was informed the that Delapena was wanted for the Rawlins murders and that he needed to contact law enforcement.  The foreman assisted officers in the arrest by setting up a plan where he would have Delapena ride with him to pick up some permits and he be pulled over over in what seemed like a routine traffic stop.   The arrest was uneventful.  Delapena did not resist.
While in the Lincoln County Jail in Hugo Colorado, awaiting extradition to Wyoming, Delapena didn't eat for almost a week.  A jailer claimed that Delapena said he didn't deserve to eat after what he had done.  His captors described him as quiet and very polite, always answering with "yes sir" and similar courtesies.
Then one day he just started eating.  He refused to sign extradition papers and wrote a long and grandiose suicide letter for the media claiming that he was set up and that he was completely innocent.  On May 22nd 1981 Frank Delapena hung himself in his jail cell.
If the testimony of numerous witnesses from different towns along his route alone, weren't enough to prove he was responsible for those murders.  The eye-witness account from one of the victim's brothers who saw Delapena talking to the girls outside of his trailer just before they disappeared paired with the physical evidence collected, far surpassed what was necessary to seal his fate.
Wyoming law enforcement executed their investigation thoroughly and the Cheyenne Crime Lab handled the evidence meticulously.  There was no doubt that Frank Delapena killed those girls. They were going to make damn sure that he didn't get away with it.
What we know about Frank Delapena:
Francisco Javier De La Peña Chavez was born in Juárez, Chihuahua, Mexico on July 24th 1951.  Apparently his father was Francisco Javier De La Peña Sr.  His mother's name was Amalia Chavez Davila.
I'm not sure when Delapena came to the United States but in 1979 he was in Star Valley Wyoming working seismology jobs.  He had a couple friends that got married there and he was the best man at their wedding.
In talking with one of them I learned that Delapena was married.  His wife's name was Consuelo and he had a son named Frank Jr. that was born around 1978.  They had even came to visit in Wyoming for a few months.
According to his friend.  Frank had relayed that he had a terrible childhood in Juárez and that he definitely had anger issues.
The third person of interest is someone that I have been dragging my feet on writing about.  However, as I've spent nearly another entire day trying to find tasks and literally anything I can do other than than write about this man, I know that I have to say something.  Him being a person of interest is a touchy subject with members of the family.  The experiences some describe are the complete opposite of what others experienced with him and the opinions about the possibility of his involvement  follow suit.
Frank Cotton was the 2nd born of the 8 surviving children.  He was about 32 years of age in 1981 and lived in Williston.  He stayed at Louise's house periodically throughout the years and dropped in frequently when he wasn't staying there.
Williston police have Frank listed as a person of interest and it is my understanding from James' interview with Williston PD that he was a person of interest before the current investigators took over the case.
I am not sure if all of the family members are aware of the reasons that Frank made the list or not.  This could be a major factor in why the opinions seem to differ so much.  I also do not claim to know all of the reasons he made the list.  It is quite possible that Williston investigators have additional reasons.
As with most cases where there is an "ongoing investigation", there are usually key details that are kept from the public in hopes of securing a conviction or verifying information.  The same is true for Barb's case.  Frank passed away in 1999 however, that doesn't mean that there isn't someone out there that can prove that he was involved.  Furthermore, we can still prove that he wasn't involved.
This next vague point is that thing that even some family members might not be aware of.  There are people who don't want to discuss Frank or the experiences they had involving him.  Experiences that have caused them emotional distress over the years.  That's completely understandable and needs to be respected.
On this note there is one person that has agreed to let her story be shared.  She did so with the hope that others, who may have had similar experiences with Frank, might have the courage to speak out about it.  Her mother told the story to James in episode 17 of the podcast.
I feel compelled to mention that if Frank was actually involved in Barb's disappearance, people sharing their stories could help solve this case.  If he was not involved, stories could also help exonerate him.
I can't tell Barb's story without including one other common suspicion involving Frank.  This is another sensitive topic that receives opinions from both ends of the spectrum.  Did Louise know of or suspect Frank's involvement?  Obviously, I don't know the answer to that.  We don't know that Frank was involved.
In order to explore possible theories about Louise we obviously walked through them as if Frank was involved. There's a few scenarios involving Louise having knowledge or a suspicion of Frank's involvement.
One scenario would be that Louise did suspect Frank.  We have heard the opinion that Louise favored Frank and that she wouldn't have turned him in if he was involved and that she likely would have covered for him.  A similar scenario is that Louise actually knew he was involved and covered for him.
The other scenario is that if Frank was involved, Louise didn't know until much later.  It's still possible she had suspicions but, maybe she had no idea at all until Frank was dying.  To some, they noticed a change in Louise around the time Frank got sick and passed away.  Obviously losing a child is traumatic and undoubtedly changes most people.  However, this change involved Louise's search for Barb.  Louise was perceived by some to be consistently looking for Barb and always hoping that she would come home someday up until Frank was dying.   Louise seemed to pretty much give up her search for Barb at this point and resolve that she was never going to come home.
Something that comes to mind immediately when this is discussed is the double headstone Louise placed for Frank and Barb to share.   Frank was not the first of Louise's children to pass away after Barb disappeared.  One of her sons passed away in 1993.  Frank died on June 1st 1999 of colon cancer.  Louise legally declared Barb deceased in 1998 which some believe would have been about the time Frank started needing his mother's assistance with caring for himself.
Please remember that these theories are only valid if we assume, hypothetically, that Frank was involved.  The same is true for all of the people of interest.
I'm not someone who makes assumptions often and I would never hang my hat on anything I can't verify as being true. However, when it comes to a case that has gone unsolved for 40 years, I am willing to explore any and all possibilities regardless of how unlikely some might feel they are.  Until something solid clearly points to a particular suspect, I see no reason to stop brainstorming on the possibilities.  There is no shortage of rabbit holes in this case and no way to know if the correct one has even been found yet.   At the very least, none have produced a rabbit.
The most detailed account of this long and confusing case is James Wolner's podcast Dakota Spotlight. Barb is featured in the 5th season "A Better Search for Barbara Cotton". We can't thank him enough for all of the time and effort he has put into Barb's case.  No doubt, this page wouldn't be here today if it wasn't for him.
Dakota Spotlight: A Better Search for Barbara Cotton